THG Straddle Trader Diamond_v2.8.2-(cost $550)- Free Unlimited Version
The THG Straddle Trader, the revolutionary software to trade the news using a highly advanced straddling method.This software is by far OUR RECOMMENDATION for anyone that wants to trade Forex news events.It has about 70-85% consistency to achieve success in Forex
trading (News trading). The THG Straddle Trader Diamond was developed by the "TradeHouse Global" team and has been successful since its launch,this software is fast gaining immense reputation for itself and is becoming very famous in the world of Forex news trading
This seems so simple and anyone can ordinarily make fortunes using this "cheat",unfortunately Forex brokers and market makers know this too (so don't be so excited yet) and they have placed series of barriers over the years to prevent traders from using the Straddling strategy–this strategy no longer works as it ought to(doing it manually),if you attempt to straddle-trade manually,you'll probably end up getting burnt and loose your hard earned money to your Forex broker.
In this generation of Currency trading,Straddling is still a basic strategy but by itself it could get you into trouble if done manually,the brokers' barriers would prevent you from achieving good result.
THG Straddle Trader EA Settings: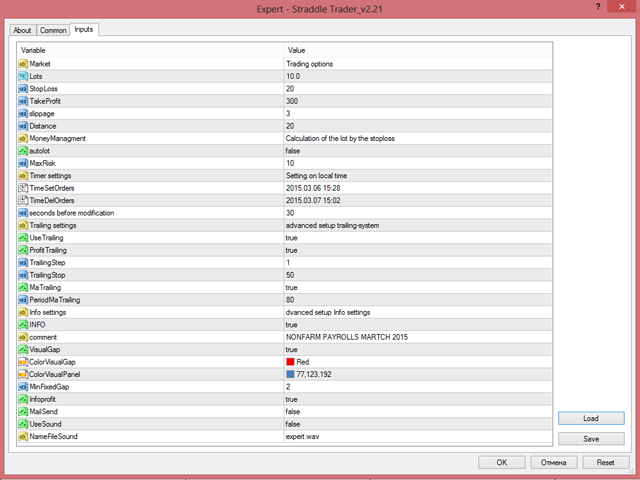 !!!GOOD NEWS FOR YOU!!!
"THG Straddle Trader Diamond" is here and has been developed to help you trade news releases removing most of the barriers associated with manual straddle trading.What exactly are these barriers??HUH?
** For beginners,Straddle trading in lay-man definition is described as a method of simply placing two pending orders before a news is released,a buy-stop and a sell-stop.The essence of this is to set a trap to capture market moves after a news release which may go either ways.If a news release comes out bullish,a bullish spike would trigger the buy-stop and hopefully the trader can make some money, same applies to bearish spikes.So with straddling,direction of a news release is not so important. **